Map Unavailable
Date/Time
Date(s) - 29.10.2019
12:30 - 19:30
Location
Théâtre du Crochetan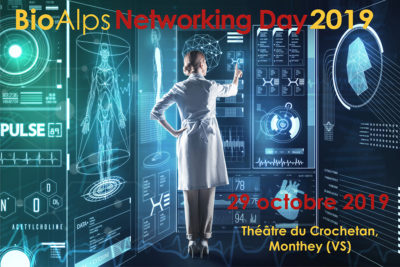 The BioAlps Networking Day will take place on Tuesday 29 October 2019 at the Théâtre du Crochetan in Monthey (VS).
THEME
"Health and technology in the Health Valley, the impact on tomorrow's healthcare jobs"
BioAlps' annual event is the perfect occasion to meet your futur partners, clients and investors. The Association also takes advantage of this opportunity to award the yearly BioAlps prize. This distinction aims to recognize an academic representative and an industrial actor, who have contributed through their activities to the development of life sciences in western Switzerland.
The event's official language is French.
Full programme in French here / Programme complet en français ici
PROGRAMME
The BioAlps Networking Day 2019 will be moderated by Mrs Marie-Thérèse Bonadonna, Cheffe adjointe du Service neuchâtelois de la culture.
12h30 – 13h30     Welcome
13h30 – 13h45     Welcome Address
Mr. Claude Clément – President – BioAlps
Mr. Christophe Darbellay – State Consellor – Canton of Valais
13h45 – 14h45      Session 1 : Journey through the futur of jobs in healthcare
Confirmed Speakers
Dr. Stéphane Pagès – Staff Scientist and Senior Research Associate – Wyss Center (Lightsheet Microscopy Project – Live Demo)
Prof. Jocelyne Majo – Associate Professor – HEIG-VD
Mr. Aurélien Fauquex – CEO – Lambda Health Systems
Mrs. Sabrina Cohen-Dunami – President – Fondation Nomads
14h45 – 14h55     Break
14h55 – 15h55     Session 2 : Digitalisation challenges and their impact on tomorrow's healthcare jobs
Confirmed Speakers
Prof. Dr. Dominique Truchot-Cardot – Ordinary Professor and Vice-Dean of Innovation – Institut et Haute École de la Santé La Source – HES-SO
Prof. Carlos Andrès Peña – Team leader of Computational Intelligence for Computational Biology (CI4CB) and Professor – HEIG-VD
Prof. Dr. Antoine Geissbühler – Professor at the Medical Faculty and Head of the Innovation Centre – UNIGE / HUG
Prof. Marcel Salathé – Director of the EPFL Extension School – EPFL
Dr. Jérôme Wojcik – SVP, Translational Informatics and Biometrics Europe – Precision for Medicine SA and Chairman – Swiss Institute of Bioinformatics
15h55 – 16h30     Coffee break : Networking and sponsor stand tour
16h30 – 17h30     Session 3 : Education and the role of key industrial partners, career guidance, education and employment integration professionals, publics authorities, universities and scientific institutions
Confirmed Speakers
Mr. Renzo Cicillini – Site Head Visp – Lonza AG
Mrs. Catherine Kuhn – Head HR Neuchâtel Plant – Takeda
Dr. Philippe Fischer – Director – FSRM
Prof. Dr. Nouria Hernandez – Rector – UNIL
17h30 – 17h50     BioAlps Awards 2019
17h50 – 18h00    Conclusions
18h00 – 19h30   Cocktail Reception : Networking and sponsor stand tour