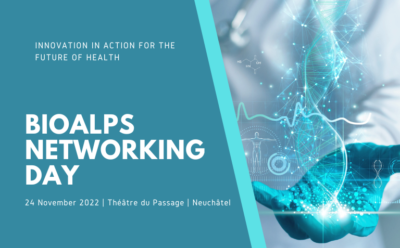 BioAlps' annual meeting attracts each year around 300 key players from the Health Valley region: representatives from academia, startups, government, and media gather to share the latest trends in Life Sciences and to connect with each other. The 2022 event will focus on the innovations in the BioAlps' community that are shaping the future in medtech, biotech and digital health.
An introductory Keynote from a Life Sciences and innovation expert will focus on the regions' challenges and opportunities, followed by two sessions concentrating on the themes of diagnostics and digital health with experts from the industry and the academic world.
Between the sessions, networking opportunities will allow the participant to meet key players from the Western Switzerland Life Sciences cluster.
InnoSquare will be back. Startups will present their cross-sectoral Life Sciences, ICT, cleantech and microtech innovations.
And finally, the traditional BioAlps Awards will also be presented to prominent academic and industrial actors from the Health Valley.
The event's official language is French.