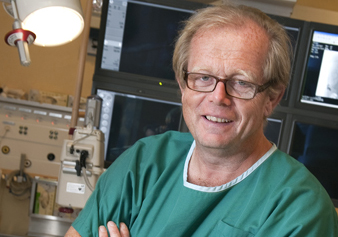 PACTT is pleased to announce that CHUV has entered into a license agreement with Biocompatibles, part of specialist healthcare group BTG International, focusing on the treatment of liver tumors, severe blood clots, varicose veins and advanced emphysema.
The agreement covers know-how and a patent protected, sustained release technology as well as sustained release drug product candidates that address unmet medical needs in embolization of a variety of hypervascularized tumors. In addition, CHUV and Biocompatibles are currently pursuing a development program under additional consulting and service agreements.
The goal of the collaboration is to develop a new class of anti-tumor devices aiming to induce severe ischemia coupled with a very high concentration of anti-angiogenic agents in the tumor periphery. "We hope for our patients that this new technique will improve the treatment of primary liver cancers" says Alban Denys, principal investigator and professor at the department of medical radiology at the CHUV. This innovative approach has recently been awarded by both, the Journal of Vascular and Interventional Radiology (JVIR outstanding laboratory research 2014) and by the European Society of Interventional Radiology (CIRSE award of excellence and innovation in interventional radiology 2015).