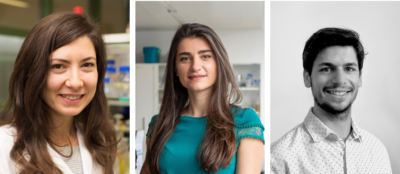 In response to the 2019 autumn call InnoTREK, Mrs. Birge Ozel Duygan, Mrs. Loulia Kasem and Mr. Sylvain Perriot submitted three innovative projects. They were all three chosen to benefit individually from the InnoTREK grant of CHF 100'000.-. These funds will be a great help to continue developing their project and subsequently create their own start-up.

The project of Birge Ozel Duygan, named "CellCognize", concerns incorporation of machine learned classified flow cytometry microbiota data in community diversity assessment.
Mrs Oezel Duygan will be hosted in Prof. Greub's laboratory at the Microbiology Institute of the CHUV.

The project of Mrs. Loulia Kasem named "Rea" is issue from a work collaboration between the Centre Hospitalier Universitaire Vaudois (CHUV) and the Ecole Polytechnique Fédérale de Lausanne (EPFL). This project concerns a Smart Pad, which resolves a global medical need: inefficient diagnostics of preterm birth.
Rea's technology is technically and clinically well-balanced and the two cofounders, Loulia Kassem and Erick Garcia Cordero, got simultaneously two grants of the Canton of Vaud : Innogrant of EPFL and InnoTREK of CHUV. Mrs. Kasem will be hosted in Prof. Baud's laboratory at the Maternity of the CHUV.

The Project of Mr. Sylvain Perriot named "Glial therapeutics" consists of an in vitro model of human brain using stem cells derived from patients, which will be used to screen for drugs against multiple sclerosis. Mr. Perriot will be hosted in Prof. Du Pasquier's laboratory in the department of clinical neurosciences at the CHUV.

The InnoTREK grant, managed by PACTT with the financial support of FIT (Fondation pour l'Innovation Technologique) as part of the InnoPACTT fund, supports selected researchers of UNIL and CHUV who have the ambition to venture into the business world with their innovative projects. These successful projects are chosen in a competitive process from applications received during the two calls per year. Since the launch in 2013, 19 laureates of UNIL and CHUV have benefited from the InnoTREK grant.