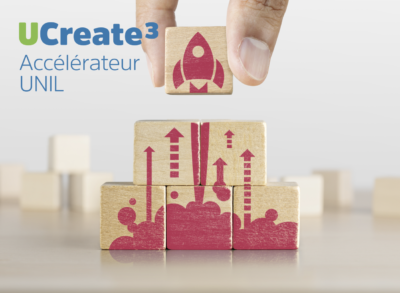 UCreate3 acceleration program from the UNIL's Entrepreneurial and Innovation HUB is designed for all members of the UNIL community : students, researchers, professors, employees and alumni. This interdisciplinary program is open to the 7 faculties of UNIL and supports all types of projects. Projects with a social and/or environmental impact are specifically encouraged.
Do you have a project that you want to launch? Embark on the entrepreneurial adventure in 2021! The main objective of the UCreate3 program is to encourage, facilitate and accelerate the creation and development of innovative projects. The program is supervised by experts, coaches and trainers who will accompany the participants during 16 weeks.
A co-working space is available at the UNIL Accelerator. All training sessions of the program are held at the Accelerator (if the sanitary situation permits, otherwise they will be held online).
The main goals of UCreate3 :
• Encourage all types of innovative projects, whether they are technological or not
• Accompany and support the selected projects throughout the acceleration process with several training sessions and expert coaching
• Follow up on projects and candidates to increase the potential of success
• Facilitate collaboration within the 7 faculties
The advantages of UCreate3 :
• Take part in training sessions
• Benefit from the support of a dedicated coach
• Improve your skills with experienced entrepreneurs
• Benefit from a network of entrepreneurs
• Receive financial support up to CHF 10,000.- per project
• Access to an office in our co-working space at the UNIL Accelerator (250 m2)
For more information about UCreate3 acceleration program and the next deadline for the call of project please visit https://ucreate.ch/en/ucreate3-en/